Featured on Malaysia Kini!!!
Shocking Crime Against Webbing Belt:
NylonBelt Sold 4K In One Day
In The United States!
" The quality is nice and you can really assure that it can withstand a lot of pressure once you wear it."
" It is easy to lock and unlock, you just need to tap it and it has small teeth to hold the belt into place."
" I'm literally wearing this belt right now after having walked through security. I just went to Alaska and this belt was great. "
Featured on Malaysia Kini
Nylon Belt has been selling fast since its launch in 2019. No kidding, it did break the sales to 4000 units in a day in the United States! NYLONBELT® could be a new brand to some of you but it is iconic to the world of adventurers. It is well-known for its load-bearing capacity to support carrying tools. To outdoor sports enthusiasts, a nylon-webbing belt is a key in carrying important equipment and holding pouches packed with essential items attached to the belt, allowing them to remain hands-free in critical situations and have instant access to the items secured to the belt easily. The tensile strength and the durability of the belt are assured to carry almost everything from EDC (everyday) equipment, IWB (inside-the-waist-band)/OWB (outside-the-waist-band) holster, knife, and more without the sacrifice of comfort.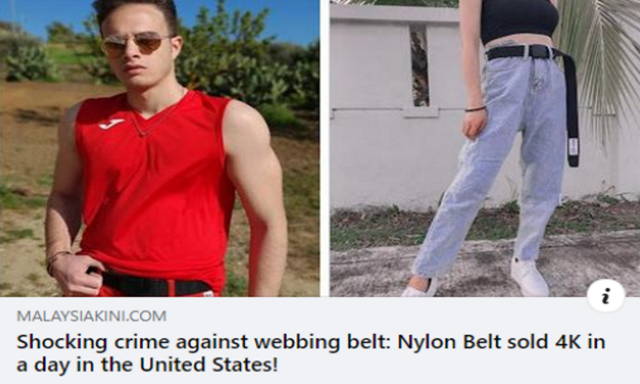 Launching of NYLONBELT® Malaysia
Wearing a belt is not peculiar for a girl. But what if she is the one who established the brand of Nylon Belt? Many may not know but the founder of NYLONBELT® Malaysia is a young and outdoorsy female who wears a nylon belt on almost all occasions.
Peggy was raised in the marketplace where her parents sold belts. She had been exposed to varieties of belts since young. To her, nylon-made belts are wearable by anyone without the need of hole-punching for size adjustment. Due to her fondness for outdoor activity, the nylon-made webbing belt has always been her favorite. It is not only lightweight and comfortable but also waterproof and dirt-resistant, perfect for anyone who explores in the wild for long hours.
Being a dropshipper in the past had been generating her an average of $100,000 (USD) revenue per month. However, she soon realized the dropship model isn't a sustainable business model for her due to its over-relying on paid ads and other uncontrollable factors. A dramatic drop in revenue had hit her hard until she met John on a hiking trip. They had a good session on the importance of a high-performing belt to an outdoor enthusiast. How great it is if there is a belt to cater to all needs of different wearers, ranging from professional hikers to casual wearers? This seed of the idea is the beginning of NYLONBELT®.
Growing a brand is never an easy journey. They have spent months looking for a suitable manufacturer and performed countless experimentations on various materials and techniques to come out with a belt that meets their requirements.
NYLONBELT® was established in 2019. The first belt of NYLONBELT® - MIL-SPEC Nylonbelt (mil-spec: military specification) was launched. This belt has been one of the hot-selling items globally due to its metal detector friendliness and tensile strength.
Alternatively, a quick clasp magnetic buckle has been launched by NYLONBELT® recently. Intuitive and smooth snap-on and unsnap allowed wearers to wear the belt in a mere 1 second! It is a simple and efficient belt for all explorers, especially for those who enjoyed climbing and extreme sports. The zinc alloy we opt for quick-release buckle is one of the best hardware in mountaineering. It is guaranteed to be strong as the material is graded for rigging and climbing use.
The global pandemic brought by the COVID-19 at the beginning of 2020 has been hitting hard on the economic performance of many countries, including Malaysia. The unemployment rate is growing. Also, the majority of businesses are changing their business models from offline to online. Competition increases predictably due to the rise of E-commerce in Malaysia. In addition, the Implementation of Movement Control Order to combat the pandemic has restricted people from conducting outdoor activities, further straining the struggle of many businesses amidst the pandemic. NYLONBELT® is no exception too.
It is important to stand united and help one another in these difficult times. Even though people are restricted from hanging out and wandering around, there are people still being attentive to their duty to serve us, such as delivery men and law enforcers. Thus, NYLONBELT® has launched a new collection of quick-clasp and quick-release magnetic buckle belts to meet the needs of those who work in outdoor environments for long hours. The new release of the buckle belts can be buckled up and buckled off in seconds with strong abrasiveness resistance as well as sufficient load-bearing capacity for them to fulfill their duties efficiently and effectively.
The environments where the outdoor activities take place can be harsh and hostile sometimes. Outdoor adventurers or extreme sports enthusiasts always got themselves bedraggled, sweaty, climbing at high altitudes and against the cliff. What they truly need is a durable and breathable belt, a belt that allows them to focus on their task at hand instead of struggling with the weight-carrying and rummaging for the essential equipment.
Our best seller, MIL-SPEC Nylonbelt is not only essential gear for sports enthusiasts, but it is indispensable to all travelers. Its nickel-free buckle is specially made for quick clearance at the security checkpoints without the need to take off the belt. Passing through the security checkpoint is easy-peasy. Moreover, it is also an ideal choice for those with metal allergies.
Unlike the traditional prong belts with holes, NYLONBELT® offers belts that can be micro-adjusted easily. Size is never a concern since our belts are fully adjustable to fit. You are allowed to customize a perfect belt length that is the best fit for your waistline. Worry-free for a plus-size waistline and change of size over months, years or decades!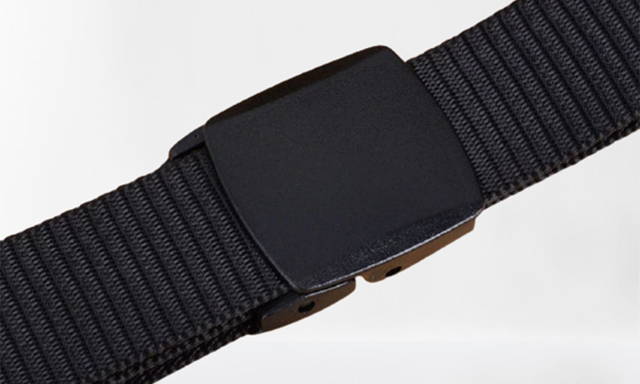 Strong Synthetic Materials
Our webbing strap is made of Ballistic Tanker Nylon – one of the strongest synthetic materials in the textile industry. It is proven as a great material for heavy-duty use due to its high tensile strength and ability to withstand a high degree of abrasiveness. Although it is often used as a tactical accessory for tactical situations, it is also ideal for people who enjoy adventure pursuits. There is a team of tailors behind the scene who could sew anything, including webbing. It provides sufficient rigidity to hold essential equipment in place without sagging and discomfort. Yet, it is flexible enough to run through the loops of pants.
Efficient and Effective Buckles
The buckle of the MIL-SPEC Nylonbelt is designed with a simple locking system. Just slide the strap through the gap of the buckle and clip it to create a strong and firm grip. The buckle is made of Techno High-Grade Polymer that is rated to withstand 200 pounds of load, tenacious enough to maintain belt tension without breaking under a heavy load.
As mentioned earlier, the magnetic buckle belts released recently are specifically catered to the needs of efficiency and effectiveness besides durability. The quick snap-on and quick release features of the magnetic buckles are intuitive to operate, which can take up to a mere 1 second! The zinc alloy we opt for in this collection is one of the best hardware in mountaineering. Its strength is assured as the material is graded for rigging and climbing use.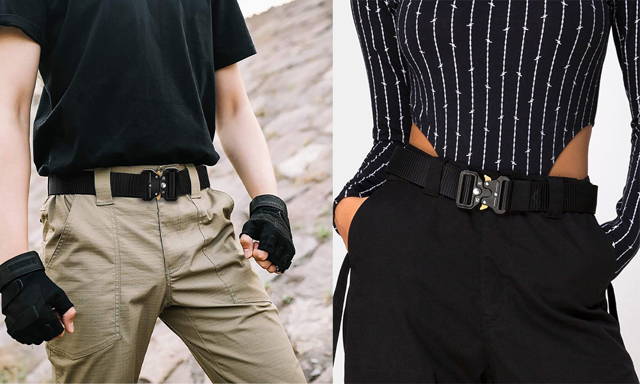 Shocking Crime Against Tactical Chic
Belts are currently one of the top pick accessories to come from the tactical wear trend. NYLONBELT® can whisper about the assured sense of fashion and scream out loudly about its quality. It has released all the eye-catchy features.
It is a belt that fits any occasion. No matter what your outfits are. Be it casual, relaxed, or even formal. Tuck in a T-shirt or shirt this summer, a nylon belt can literally be the highlight of your outfit. Other than polymer and magnetic buckle belts, NYLONBELT® has a minimally designed metal buckle belt that can rescue almost the outfit from tentacles of mediocrity. With the minimalist vibe and sturdy gripping system, strictly speaking, it's not an ordinary belt but a shocking crime against both men and womenswear.