What to Look for When Buying A Tactical Belt Based on Experts?
What to Look for When Buying A Tactical Belt Based on Experts?
Tactical belts are getting more common for civilians nowadays. It is no longer restricted to military personnel and law enforcers but also for other outdoor activities such as outdoor adventure. Before getting yourself a tactical belt, how much do you know about it? In this article, we are going to get your covered on some basic stuff about tactical belt to aid in your selection process. 
What is Tactical Belt & What Purpose its Serve?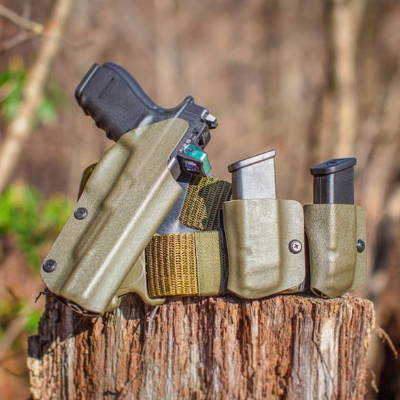 Tactical belts used to be known as sword belts in the Romanian Era. It is designed to support the daily operations and training of military personnel and law enforcers with its superior load-bearing capacity. For instance, a police officer needs to carry all the essential equipment that weighed up to 20 pounds on average. Since it is designed to carry a wide range of essential gears, it is typically made of high-grade leather or nylon which makes it a durable belt. With this load-bearing feature, it allows you to have instant and easy access to the essential gears packed in the pouches attached nicely to the belt. Most importantly, it allows you to remain hands-free to focus on your task at hand, which could be a life-and-death situation. To sum up, this belt is an essential protective accessory for those who carry important missions besides holding up the pants.
There are three common types of tactical belts available on the market: Duty Belt, Rigger's Belt, and Tactical EDC Belt. A good tactical belt has a width range of 1.5'' to 2'', making it rigid enough to hold the essentials without sagging while having sufficient flexibility to thread through the belt loops of the pants.
• Width: at least 2''
Duty belts are commonly wearing by law enforcers. These belts are ideal to hold a wide range of gears, including a pistol, baton, and flashlight. A wider belt is good to distribute the weight of the loads carried onto the belt, lessening the strain on the body for long hours of use.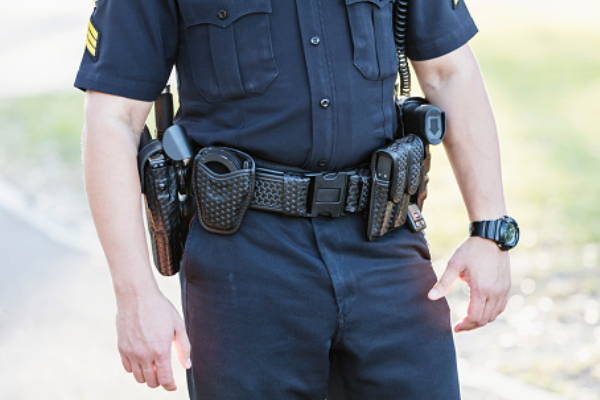 • Width: around 1.75''
Rigger's belts are commonly wearing for sports activities such as climbing or search-and-rescue activities that involve rappelling. The design of the belts typically includes a D-shaped or V-shaped ring to attach to the carabiner to aid rappelling. Of course, they are capable enough of carrying essential items regardless of the item size.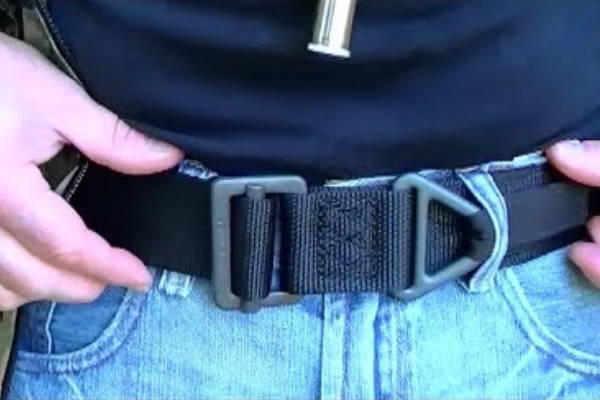 • Width: around 1.5''
For those who are new to tactical belts, EDC stands for "everyday carry". Therefore, these belts are designed for daily use to hold things like holsters, firearms, torchlight, or any other important equipment to meet your daily needs.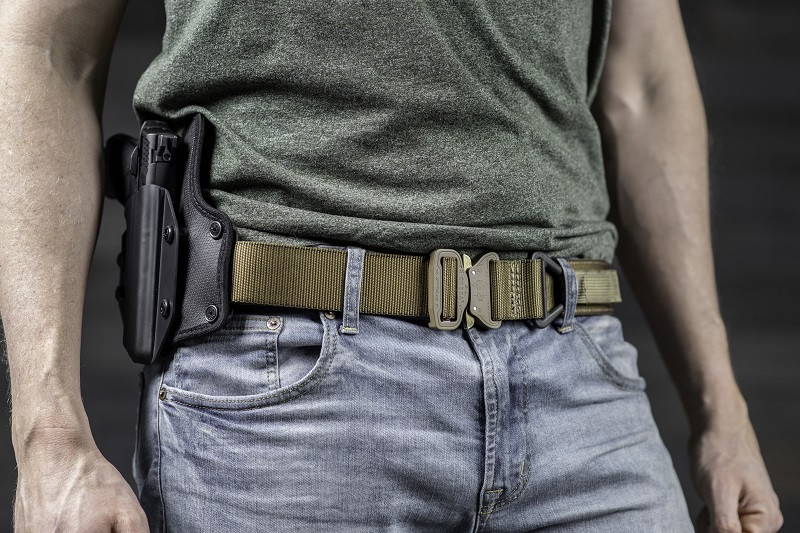 How Should You Choose A Tactical Belt?
Your choice of a tactical belt is dependent on the activities you are going to conduct. If you want to do rappelling, a rigger's belt with a D-shaped or V-shaped right would be the ideal choice to go for. One of the best things about a tactical belt is that you can always customize your belt based on your needs and preferences. You can always attach or detach pouches, increase or decrease the number of pouches attached to the belt. Regardless of whether you are looking for a belt that addresses specific needs or a multifunctional belt, below are the things to consider in general with conducting outdoor activities in mind.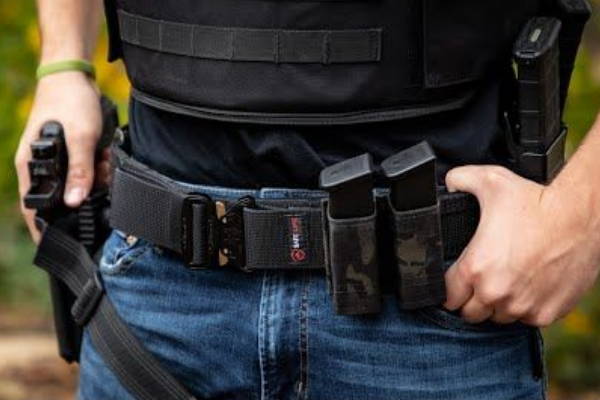 Metal vs Non-Metal
There are two types of buckle commonly available on the market: metal and non-metal. Whether you are going for metal or non-metal, a lightweight buckle is most preferred. You would never want a heavy buckle to drag your body while carrying out outdoor activities for long hours. Non-metal buckle is getting more popular nowadays due to its friendliness with the metal detector scanner and skin, ideal for passing through the security checkpoints and those with nickel allergies.
Durability
Durability is the soul of a tactical belt. A sturdy buckle with a strong grip is necessary to withstand a great amount of pressure so that it won't break easily. If you want a non-metal buckle, make sure the buckle is made of high-grade polymer to assure its durability.
Comfort
Comfort is another important factor to look into since you are going to use it for long hours with lots of body movement involved. Generally, wearers reported belts with a low-profile/flat buckle are more comfortable than the bulky types as the latter often cause pain to the tummy. The worst part is leaving a mark on the tummy which is not easy to fade.
Ease of Use
Tactical belts are generally come with a simple and efficient buckle to make them easier for you to operate. For instance, a slot-in buckle and magnetic buckle. These buckles do not only allow a single-handed operation. More importantly, they possess a quick-release capability for emergencies and convenience. They are intuitive and efficient to be used. This is something you would not found on the conventional belt with a prong buckle.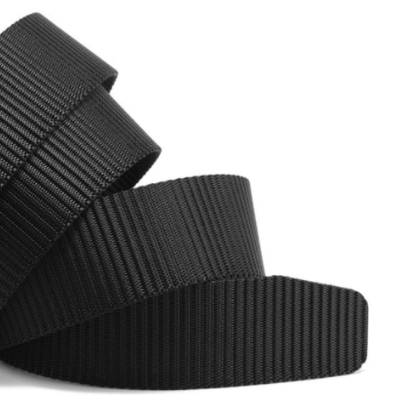 Durability
To ensure the tactical belts are strong enough to carry the essential items, durable and rigid materials like leather and nylon straps are recommended. Leather is nice-looking but it is hard to be taken care of compared to nylon. Leather is prone to crack and lose its luster after wearing for some time without proper maintenance despite its known quality. Nylon is popularly known as the strongest synthetic textile in the industry. The material is often favored by many due to its high tensile strength, damage-resistant, anti-scratch, quick to dry, breathable, and lightweight despite its tough webbing construction.
Rigidity
Unlike the flimsy belt strap, look for belts that are designed for load-carrying purposes as these belts are typically rigid enough to bear the loads without sagging. Bear in mind that if the belt is too rigid, comfort could be sacrificed. Therefore, strike a balance between both. As mentioned, a width range of 1.5'' to 2'' is the ideal range to meet the balance between rigidity and comfort.
Adjustability
Unlike the belts with holes on the strap, tactical webbing belts are without holes. This allows you to adjust the belt to cinch to your waistline to fit without being too tight or too loose. An unfit belt would require a constant readjustment throughout your outdoor activity. Many wearers reported about their issue with the number of holes on the strap as the ideal gap between the holes on the strap varies with people. To save this from worry, the micro-adjustment feature of the belt would be your best solution. In addition, save your worries about getting a new one if you have gained weight or lost weight over months, years, or decades. Also, belts with this feature are perfect for big people.
Sizing
A good belt never leaves out anyone. If you are a big-sized person, look for the longest length the belt can offer or you might want to drop a message to the seller to request a customization.
Versatility
Tactical belts are becoming fashionable besides their functionality. Whether you want it to be rugged enough for everyday wear, to assist tactical work, to look casual, or to look stylish with a military vibe, look for a belt that can fit on many occasions.
We hope we have provided some useful tips to you in choosing a good tactical belt that assures quality and security besides its functionality. Below is the summary of our recommendations based on tactical belt experts:
• Lightweight metal or non-metal buckle for comfort
• Non-metal buckle for quick security clearance
• Durable buckle with strong grip for non-easy breaking under pressure
• Low-profile/flat buckle for comfort
• Simple and efficient buckle that allows single-handed operation and with a quick-release feature
• Nylon strap with high tensile strength for load-carrying
• Rigid belt strap with a width range of 1.5'' to 2'' for load-carrying without taxing on the comfort
• Strap without holes for micro-adjustment
• The longest length the belt can offer for big-sized people
• Can fit on many occasions