Anti-Theft Techno Polymer Nylon Belt
The ultimate solution for your safety and peace of mind - the Anti-Theft Nylon Belt. With its Metal Detector Friendly Techno Polymer Buckle, you can now breeze through security checkpoints hassle-free. No more taking off your belt, no more awkward pat downs.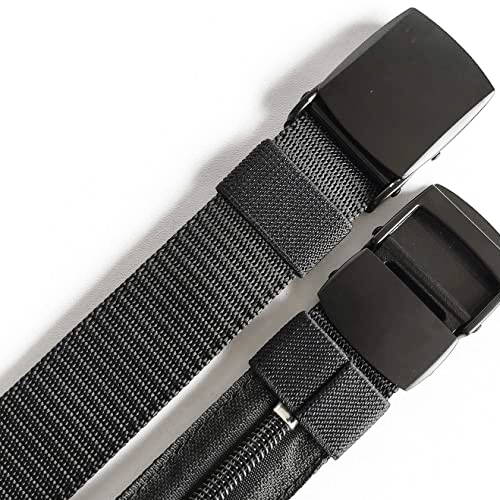 ANTI-THEFT SYSTEM
But that's not all. Our Anti-Theft Nylon Belt features a cutting-edge Anti-Theft System with a Secret Pocket, located at the back of the belt. This hidden compartment provides a secure and discreet place to store your valuables, such as cash and travel documents. You'll feel confident and empowered, knowing that your most important belongings are within arm's reach and out of sight from potential thieves.
DURABLE METAL DETECTOR FRIENDLY / TSA FRIENDLY BUCKLE
Anti-crack Techno Polymer (Nickel-free) buckle comes with a strong buckle bite. Best for hypoallergenic use. Huge load-bearing capacity to meet your diverse wearing requirements. 
Our belt is made from strong and durable nylon, ensuring that it will last you for years to come. Unlike traditional belts with holes, our belt offers an adjustable and custom fit, allowing you to find your perfect fit and avoid the hassle of constantly readjusting.

Whether you're traveling, commuting, or simply out and about, the Anti-Theft Nylon Belt has got you covered. With its sleek design and innovative features, you'll look and feel your best while staying safe and secure.
Specification
Buckle Material:

 

Techno Polymer Buckle
Buckle Size:

 

2.0*1.9"
Strap Material:

 

100% Premium Ballistic Nylon
Strap Length:

 

48-70"
Strap Width:

 

1.5"
Warranty:

 

Lifetime warranty